MITCHELL — Tom Patzer has seen it for the past four decades running his woodworking business.
From a devastating flood that destroyed his equipment and wreaked havoc on his facility, to fires and epidemics, Patzer has faced many challenges that have tested his will to succeed as a local business owner. But every time a major obstacle is thrown his way, Patzer always finds a way to overcome them.
His ability to rise to the occasion in the face of adversity helped Patzer Woodworking reach the 40-year business milestone this year. Thursday was a time to celebrate that milestone at Patzer's new-look facility that was submerged in more than a foot of water three years ago.
"But we're still standing stronger than ever," Patzer said of the past three years of flood recovery efforts and the supply-chain battles created by the COVID-19 pandemic.
Looking back at how far Patzer Woodworking has come since it was a small garage office and manufacturing facility in 1981, a big smile spreads across Patzer's face.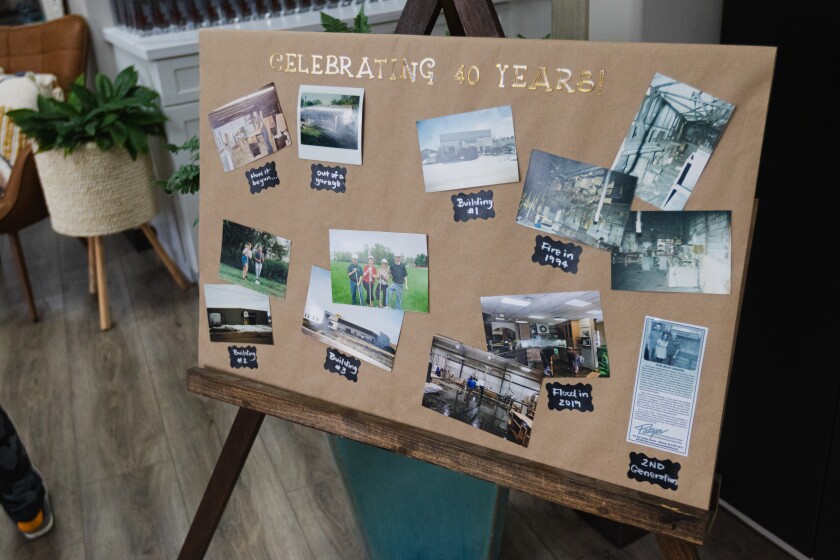 As Petzer says, getting into the woodworking business was a "leap of faith." Friends doubted he would stay in business for more than a few years, and in the early 1980s banks were reluctant to provide him with the loans he needed. .
"There were some friends of mine who would give me two years until I went out of business. They knew running a lumber business was tough, but here I am, 40 years later, still humming," Patzer said. "I found a bank in Mitchell to give me a loan, and I thought they had a lot of faith in me. I'm sure glad they did, because it worked out."
What began as a one-man woodworking business inside a 650-square-foot garage is now a company with more than 20 employees producing custom cabinetry and countertops out of a 32,000-square-foot facility in central Mitchell.
"I'm blessed to have a wife who has stood by me since the beginning," he said of his wife, Sherry Patzer.
After making a name for himself as a talented cabinetry and countertop craftsman, Patzer began to welcome larger commercial jobs. Landing Avera Health and Puetz Construction as clients was a proud moment for Patzer.
Seeing the business succeed has provided many fond memories for Patzer, but seeing his son, Ryan Patzer, and daughter, Amanda Neppl, join the team is "a proud moment" for the business founder. Ryan and Nappel's decision to work with the company turned Patzer Woodworking into a family-owned business that now spans generations, something Tom has dreamed of since the beginning of his journey.
"I always thought Ryan would come back here, but I never thought Amanda would. It was a blessing to have them both come back and make us a second generation family business," said Tom.
Together, the brother-sister duo oversees commercial projects, design work and client relations. Ryan and Neppl's focus has translated into success, as the business has expanded its footprint into neighboring states such as Iowa, Wyoming and Minnesota.
Although Patzer lost his first building to a fire and faced a once-in-a-lifetime pandemic in the past two years, the 2019 flood that soaked the business in a foot of water, the family said, was the hardest. A challenge that business has ever faced.
The Patzer family still remembers the natural disaster vividly. The annual work party was scheduled to take place at Patzer Woodworking's showroom on September 12 that year, but Mother Nature had other plans.
Instead of walking into the showroom with plates of appetizers and waiting for employees to celebrate another year of business, the Petzers couldn't even access their building because the entire area was flooded with more than a foot of standing water from the start. 8 to 10 inches of rain fell this morning.
"The water was higher than the windows of the building. We had computers floating. There was even a boat that someone had floated over the side of the building," Tom said of the photos he remembers of the flood. "We lived in a partial showroom for three years."
Unlike a structure fire, insurance does not cover any flood damage. This forced the family-owned business to pay out of pocket for much of the damage repair and equipment replacement.
According to the Federal Emergency Management Agency (FEMA), 40% of small and medium-sized businesses never reopen after a natural disaster causes significant damage. Of the businesses that reopen after a natural disaster, 25% close within a year, FEMA data says.
The Patzer family business has bucked the trend as they enter their third year of operation following the 2019 flood.
"There were a lot of sleepless nights," Ryan said of the nights after the flood.
The flood left behind one of the most important pieces of equipment that is the heartbeat of Patzer Woodworking's production. For three days after the flood, the wood-cutting machine stopped working, bringing production to a standstill.
Despite technicians' estimates of a 40% survival rate on the wood chipper, the production team managed to repair the machine until a new chipper arrived a few months later. With damaged equipment and a damaged facility, teams of wood craft makers were moving and reassembling products outside customers' doors.
Nepal lauded the ability of a dedicated team to improve and deal with post-flood challenges as key to helping Pazer Woodworking emerge from the rubble.
"All of our employees touch the job. It really takes a team effort to make a business like this successful for so long," she said. "Without them we could not have overcome the challenges."
As community members and business leaders gathered at the showroom Thursday to mark the company's 40th anniversary, there was no sign of the room being submerged in more than a foot of water just three years ago.
Among the handful of challenges Patzer Woodworking has faced over the years, Tom instilled faith in overcoming obstacles by saying his family heard it over and over again: "It's always going to work out."
"That's what he always says when we're worried about everything," Ryan said of his father. "And it is."
window.fbAsyncInit = function() { FB.init({
appId : '333537111744287',
xfbml : true, version : 'v2.9' }); };
(function(d, s, id){ var js, fjs = d.getElementsByTagName(s)[0]; if (d.getElementById(id)) {return;} js = d.createElement(s); js.id = id; js.src = "https://connect.facebook.net/en_US/sdk.js"; fjs.parentNode.insertBefore(js, fjs); }(document, 'script', 'facebook-jssdk'));

Source